Pluralities
Keywords:
body, plurality, diversity, emotion, transformation
Abstract
Plurality is a conceptual tool that makes diversity explicit. Its importance lies in the theoretical field of studies. Plurality encompasses social values, collective lifestyle, ethics, respect, justice, knowledge of various cultures, and the impact of physical and psychological suffering created by prejudice and discrimination. Understanding the different types of knowledge and the mechanisms that keep them concealed and that affect them can contribute to reducing prejudice, fear, and insecurity in the face of the unknown. A confrontation occurs in the presence of insecurity. Fear and anger emerge, and violence becomes an act of eliminating that which is considered threatening. Moreover, the contemporary context adds technology, competition, and speed to this equation, and the result impacts our lives, disconnects us, and anesthetizes our social and emotional bodies. As a principle of plurality, diversity is key to our lives. There is no survival without transformation. We and the world are in constant change. This involves action, learning, and both personal and social experience.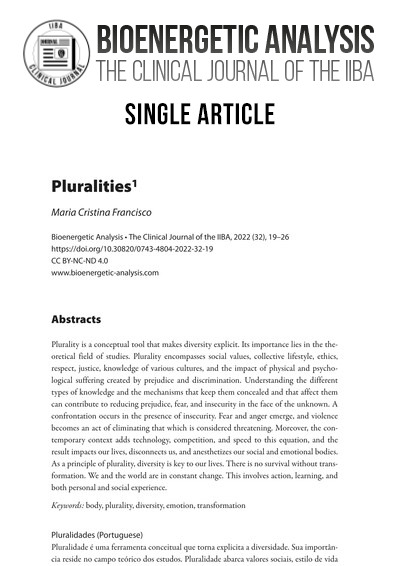 How to Cite
Francisco, M. C. (2022). Pluralities. Bioenergetic Analysis, 32(1), 19–26. https://doi.org/10.30820/0743-4804-2022-32-19
License
This work is licensed under a Creative Commons Attribution-NonCommercial-NoDerivatives 4.0 International License.
This work is licensed under the Creative Commons Attribution-NonCommercial-NoDerivatives 4.0 International License (CC BY-NC-ND 4.0). This license allows private use and unmodified distribution, but prohibits editing and commercial use (further information can be found at: https://creativecommons.org/licenses/by-nc-nd/4.0/). The terms of the Creative Commons licence only apply to the original material. The reuse of material from other sources (marked with a reference) such as charts, illustrations, photos and text extracts may require further permission for use from the respective copyrights holder.