Neurobiology and Psychological Development of Grounding and Embodiment
Applications in the Treatment of Clients with Early Disorders
Keywords:
cooperation, deconstruction, embodied self, grounding, participation, triad
Abstract
Alexander Lowen's concept of «grounding" is unique to Bioenergetic Analysis (BA). The bioenergetic grounding concept can scientifically be based on cerebral representations and integration of sensations – especially on proprioception allied with sense of equilibrium and touch. In addition, it is an operationalization of Freud's principle of reality, i.e., it is oriented to reality in the here and now. Bioenergetic techniques, stimulating the integration of «body-maps" like vestibular perception, proprioception and touch, may improve consciousness, vitality and cohesion of the self in various groups of clients with early disorders. Neurobiology, modern philosophy and system theory not only proclaim the end of the Cartesian duality of body and mind, but also demonstrate, how the perception and consciousness of our self is based on such body-maps. In this paper the concept of grounding is mainly being conceived of as relational and rooted in the psychosomatic self. Furthermore, a developmental perspective of grounding is elaborated, based on scientific findings on the primary triad of baby, mother and father. These results may gain importance as organizing principles in body-psychotherapy. Three case vignettes illustrate principles of grounding, cooperation and deconstruction from the perspective of client and therapist.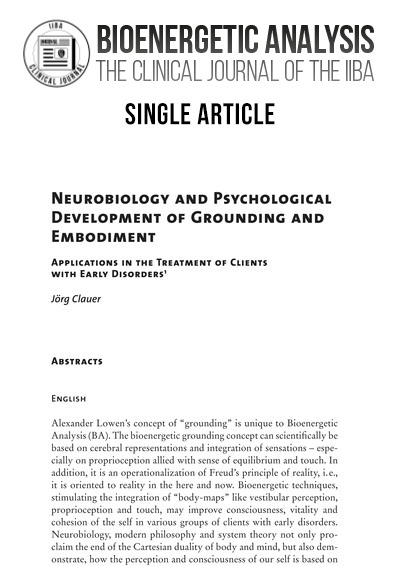 Downloads
How to Cite
Clauer, J. (2022). Neurobiology and Psychological Development of Grounding and Embodiment: Applications in the Treatment of Clients with Early Disorders. Bioenergetic Analysis, 21(1), 17–55. https://doi.org/10.30820/0743-4804-2011-21-17
License
This work is licensed under a Creative Commons Attribution-NonCommercial-NoDerivatives 4.0 International License.
This work is licensed under the Creative Commons Attribution-NonCommercial-NoDerivatives 4.0 International License (CC BY-NC-ND 4.0). This license allows private use and unmodified distribution, but prohibits editing and commercial use (further information can be found at: https://creativecommons.org/licenses/by-nc-nd/4.0/). The terms of the Creative Commons licence only apply to the original material. The reuse of material from other sources (marked with a reference) such as charts, illustrations, photos and text extracts may require further permission for use from the respective copyrights holder.