A Memoir of Psychotherapy
Keywords:
psychotherapy, Michael Eigen, anhedonia, soul murder, madness
Abstract
In this memoir an experienced psychotherapist describes a fifty-year personal psychotherapy, more than thirty years of this therapy as a patient of Dr. Michael Eigen. The author's and Michael Eigen's lived experience of madness and murder is examined for insight into the possibilities of working psychotherapeutically with very damaged psyches and souls. Michael Eigen's theory and practice are part of the investigation, and questions are raised about what can be enough, if anything, in the successful psychotherapy of people in profound and enduring psychological and emotional pain.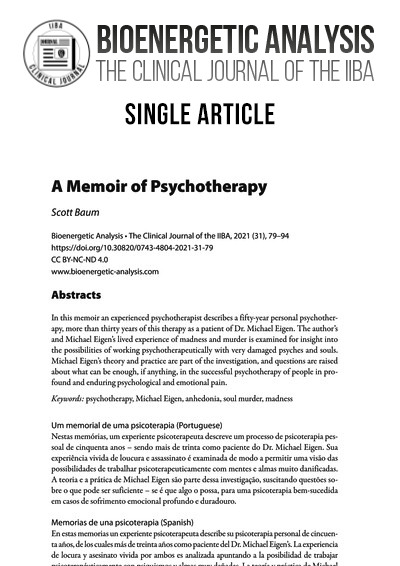 How to Cite
Baum, S. (2021). A Memoir of Psychotherapy. Bioenergetic Analysis, 31(1), 79–94. https://doi.org/10.30820/0743-4804-2021-31-79
License
Copyright (c) 2021 Scott Baum
This work is licensed under a Creative Commons Attribution-NonCommercial-NoDerivatives 3.0 Unported License.
This work is licensed under the Creative Commons Attribution-NonCommercial-NoDerivatives 4.0 International License (CC BY-NC-ND 4.0). This license allows private use and unmodified distribution, but prohibits editing and commercial use (further information can be found at: https://creativecommons.org/licenses/by-nc-nd/4.0/). The terms of the Creative Commons licence only apply to the original material. The reuse of material from other sources (marked with a reference) such as charts, illustrations, photos and text extracts may require further permission for use from the respective copyrights holder.