Encountering the Shadow
Working with Negativity in the Therapeutic Process
Keywords:
negativity, Gollum, externalization, vocal expression, tongue
Abstract
The interacting unconscious in the contact between therapist and client, the (self) sabotage and destructiveness observed as resistance in the contact to oneself and to others, is explained conceptually and illustrated with case studies. Therapeutic techniques will be presented which allow a creative and energizing, vocally expressive handling of the hostility bound up in the introject, in which the patient «embraces" their own shadow. The bases for the practical work are the well-known concepts and interventions of Bioenergetic Analysis, and this perspective is extended by reference to the anatomical-functional and the neurovegetative contexts of vocal expression. The tongue is of particular importance as it is a universal organ of expression for rejection, contempt, aversion as well as for desire. The familiar and the new are placed within a specific therapeutic framework.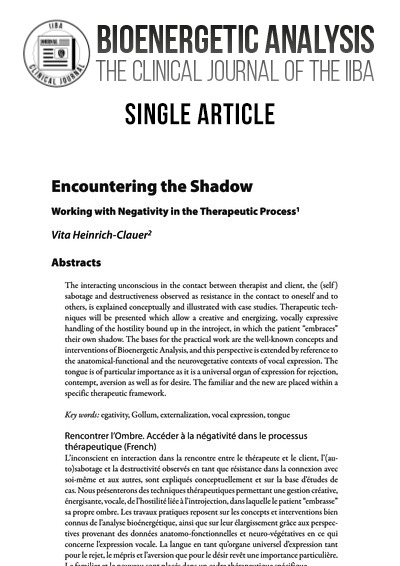 How to Cite
Heinrich-Clauer, V. (2020). Encountering the Shadow: Working with Negativity in the Therapeutic Process. Bioenergetic Analysis, 30(1), 39–58. https://doi.org/10.30820/0743-4804-2020-30-39
License
Copyright (c) 2020 Vita Heinrich-Clauer
This work is licensed under a Creative Commons Attribution-NonCommercial-NoDerivatives 4.0 International License.
This work is licensed under the Creative Commons Attribution-NonCommercial-NoDerivatives 4.0 International License (CC BY-NC-ND 4.0). This license allows private use and unmodified distribution, but prohibits editing and commercial use (further information can be found at: https://creativecommons.org/licenses/by-nc-nd/4.0/). The terms of the Creative Commons licence only apply to the original material. The reuse of material from other sources (marked with a reference) such as charts, illustrations, photos and text extracts may require further permission for use from the respective copyrights holder.