Compulsions and Personality Disorders
Homicides and Suicides: a Social Health Issue Based on Bioenergetic Analysis
Keywords:
Schizoid personality disorder (SPD), rampage shooter, compulsion, bioenergetics analysis, creativity
Abstract
This article proposes a reflection on the possible causes and diagnosis of people involved in violent shootings. The policies for prevention of those social tragedies remain somewhat controversial and vaguely addressed, lacking theoretical attention (Rocque & Duwe, 2018). One of the main diagnoses involved in those cases, according to literature, is Schizoid Personality Disorder-SPD with characteristics of detachment, isolation and difficulties of contact with other human beings (DSM-5, 2013). The loss of capacity to establish social relationships and intimacy hamper and may sometimes impede a psychological treatment based on connection possibilities. Juvenile violence statistics increased dramatically in the last 50 years and because of this, early diagnosis is important for the prevention and treatment of these cases. At the same time, further research and case studies are a pressing need (Rocque, 2017). For diagnosed SPD patients, Bioenergetics Analysis stands out in a scenario in which rapprochement and contact are a priority, also as an approach that is open to new care techniques and alternatives investigations in helping people to open their hearts to life and love. If this objective is not achieved, the outcome, according to Lowen (1991) is tragic.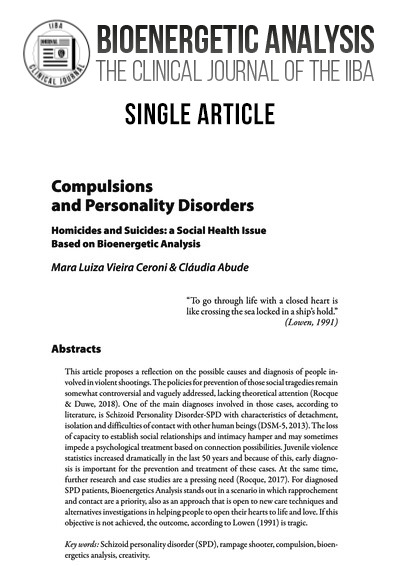 How to Cite
Ceroni, M. L. V., & Abude, C. (2019). Compulsions and Personality Disorders: Homicides and Suicides: a Social Health Issue Based on Bioenergetic Analysis. Bioenergetic Analysis, 29(1), 79–97. https://doi.org/10.30820/0743-4804-2019-29-79
License
Copyright (c) 2019 Mara Luiza Vieira Ceroni, Cláudia Abude
This work is licensed under a Creative Commons Attribution-NonCommercial-NoDerivatives 4.0 International License.
This work is licensed under the Creative Commons Attribution-NonCommercial-NoDerivatives 4.0 International License (CC BY-NC-ND 4.0). This license allows private use and unmodified distribution, but prohibits editing and commercial use (further information can be found at: https://creativecommons.org/licenses/by-nc-nd/4.0/). The terms of the Creative Commons licence only apply to the original material. The reuse of material from other sources (marked with a reference) such as charts, illustrations, photos and text extracts may require further permission for use from the respective copyrights holder.