Self-Regulation and Psychodynamics in Bioenergetic Analysis
An Approach to Advanced Training
Keywords:
Bioenergetic Analysis, psychodynamics, structural disorders, affect regulation, organization of the mental defense
Abstract
This article presents ten theses containing theoretical considerations for a postgraduate curriculum as currently tested by the Polish Society for Bioenergetic Analysis. The bioenergetic notion of the self, of affect regulation and of mental defense are modified in order to allow for psychodynamic conflict-, structureand trauma-pathological concepts to be integrated into Bioenergetic Analysis. Among other advantages, this approach facilitates the work with structural disorders (narcissism, borderline personality disorder) in Bioenergetic Analysis.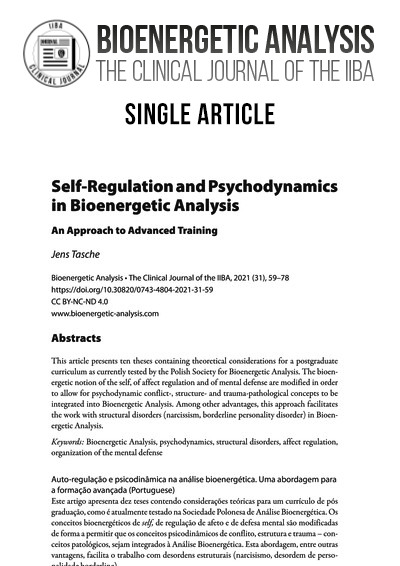 How to Cite
Tasche, J. (2021). Self-Regulation and Psychodynamics in Bioenergetic Analysis: An Approach to Advanced Training. Bioenergetic Analysis, 31(1), 59–78. https://doi.org/10.30820/0743-4804-2021-31-59
License
Copyright (c) 2021 Jens Tasche
This work is licensed under a Creative Commons Attribution-NonCommercial-NoDerivatives 3.0 Unported License.
This work is licensed under the Creative Commons Attribution-NonCommercial-NoDerivatives 4.0 International License (CC BY-NC-ND 4.0). This license allows private use and unmodified distribution, but prohibits editing and commercial use (further information can be found at: https://creativecommons.org/licenses/by-nc-nd/4.0/). The terms of the Creative Commons licence only apply to the original material. The reuse of material from other sources (marked with a reference) such as charts, illustrations, photos and text extracts may require further permission for use from the respective copyrights holder.