A Traumatic Event
Bioenergetic Therapy Applied in a Company Environment
Keywords:
trauma, grief, therapy, company, bioenergetic analysis
Abstract
The article describes a work of Bioenergetic Analysis performed in the business sector. The therapists provided group therapy in a company context in a situation of serious grief (an employee had been killed in an occupational accident while several of his colleagues were present). Good results were achieved. Initially, the client requested individual psychological therapy for the thirty colleagues of the deceased man. This request was redefined to cover two approaches: immediate individual therapy (for those employees most affected) and group therapy. This paper describes the group therapy performed in the company environment. The paper also discusses some of the techniques used; the theoretical basis (Lowen's Bioenergetic Analysis); incorporation of neurological advances on trauma (Porges' Polyvagal Theory), trauma treatment (Berceli, Levine, Ogden, Rothschild and Van der Kolk); and the concepts that might be most helpful for anyone replicating this work in similar contexts.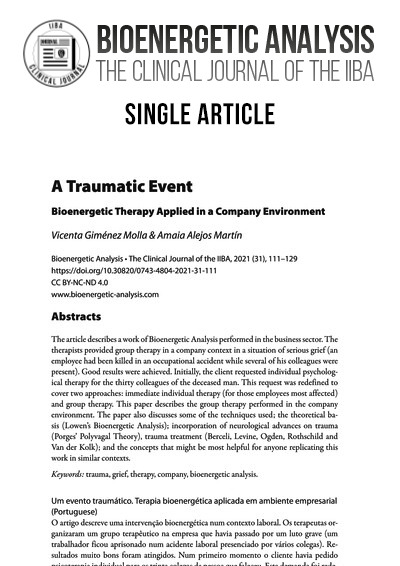 How to Cite
Molla, V. G., & Martín, A. A. (2021). A Traumatic Event: Bioenergetic Therapy Applied in a Company Environment. Bioenergetic Analysis, 31(1), 111–129. https://doi.org/10.30820/0743-4804-2021-31-111
License
Copyright (c) 2021 Vicenta Giménez Molla, Amaia Alejos Martín
This work is licensed under a Creative Commons Attribution-NonCommercial-NoDerivatives 4.0 International License.
This work is licensed under the Creative Commons Attribution-NonCommercial-NoDerivatives 4.0 International License (CC BY-NC-ND 4.0). This license allows private use and unmodified distribution, but prohibits editing and commercial use (further information can be found at: https://creativecommons.org/licenses/by-nc-nd/4.0/). The terms of the Creative Commons licence only apply to the original material. The reuse of material from other sources (marked with a reference) such as charts, illustrations, photos and text extracts may require further permission for use from the respective copyrights holder.