Les souvenirs traumatiques
La compréhension des neurosciences
Keywords:
Amygdale, Hippocampe, Cortex préfrontal, Mémoires traumatiques, Neurosciences, Relation thérapeutique, Accordage
Abstract
Cet article présente une description détaillée de comment se forment les souvenirs selon les neurosciences. Il explicite différents types de souvenirs, d'une part les souvenirs refoulés et d'autre part les souvenirs dissociés. La formation des souvenirs dissociés, de même que les mécanismes de refoulement des souvenirs, y sont discutés à partir d'études récentes portant sur l'Imagerie par Résonance Magnétique fonctionnelle (IRMf) et à partir de recherches en neurosciences. Il montre que les souvenirs traumatiques combinent très souvent à la fois des aspects dissociés et des aspects refoulés. En se basant sur de récentes recherches en neurosciences, il conclut que l'accordage du thérapeute et de la situation thérapeutique constitue un facteur extrêmement important dans le traitement du trauma, et ce, indépendamment de la nature du trauma. Enfin, deux cas cliniques sont présentés, mettant en évidence les arguments présentés dans cet article.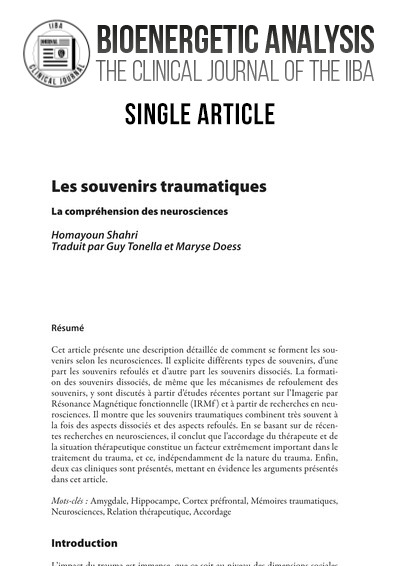 How to Cite
Shahri, H. (2017). Les souvenirs traumatiques: La compréhension des neurosciences. Bioenergetic Analysis, 27(1-FR), 49–71. https://doi.org/10.30820/0743-4804-2017-27-FR-49
License
This work is licensed under a Creative Commons Attribution-NonCommercial-NoDerivatives 4.0 International License.
This work is licensed under the Creative Commons Attribution-NonCommercial-NoDerivatives 4.0 International License (CC BY-NC-ND 4.0). This license allows private use and unmodified distribution, but prohibits editing and commercial use (further information can be found at: https://creativecommons.org/licenses/by-nc-nd/4.0/). The terms of the Creative Commons licence only apply to the original material. The reuse of material from other sources (marked with a reference) such as charts, illustrations, photos and text extracts may require further permission for use from the respective copyrights holder.