Containment, Holding, and Receptivity
Somatopsychic Challenges
Keywords:
containment, holding environment, therapist receptivity, somatopsychic analysis, therapeutic space
Abstract
This paper is about some principles in the organization of the psychotherapeutic space. These are central, basic principles, which are necessary for the space to work as intended. These principles include: the primacy of the welfare of the patient; the therapist's ability to prioritize the experience of the patient; the necessity that the therapist be versatile in the dynamics of holding and engagement; and that the therapist have a grasp of her or his personality dynamics, how they may intrude into the therapeutic space, when that can be harmful and what to do if the intrusion is destructive. A perspective derived from principles of Bioenergetic Analysis is shown to be useful in elaborating the dynamics of the space. This paper is also about the challenges posed by the requirement to establish an environment based on these principles. This construction demands a great deal from therapists. At the end of the paper I will propose that facing these challenges and the work to meet them offers a model for psychotherapy and also for relationships more broadly.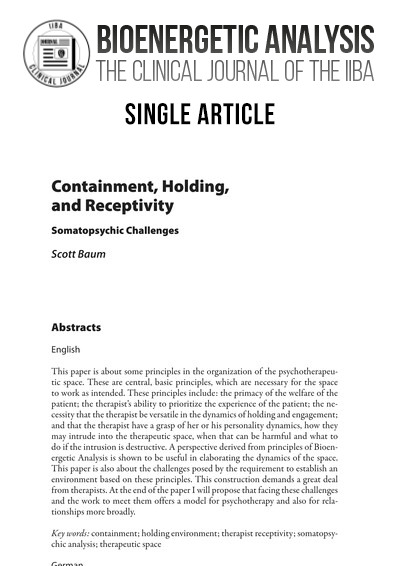 How to Cite
Baum, S. (2017). Containment, Holding, and Receptivity: Somatopsychic Challenges. Bioenergetic Analysis, 27(1), 21–47. https://doi.org/10.30820/0743-4804-2017-27-21
License
This work is licensed under a Creative Commons Attribution-NonCommercial-NoDerivatives 4.0 International License.
This work is licensed under the Creative Commons Attribution-NonCommercial-NoDerivatives 4.0 International License (CC BY-NC-ND 4.0). This license allows private use and unmodified distribution, but prohibits editing and commercial use (further information can be found at: https://creativecommons.org/licenses/by-nc-nd/4.0/). The terms of the Creative Commons licence only apply to the original material. The reuse of material from other sources (marked with a reference) such as charts, illustrations, photos and text extracts may require further permission for use from the respective copyrights holder.