Polyvagal Theory
Introduction for Somatic Psychotherapy
Keywords:
polyvagal, neuroception, autonomic nervous system, sympathetic, social engagement system, vagal brake, portals
Abstract
This paper introduces polyvagal theory (1995) as defined by its originator, Stephen Porges, for the benefit of somatic, body-oriented, clinical psychotherapists. While there has been a recent explosion of interest in integrating this psychophysiological theory within various fields, some of the references to and explanation of the material can be difficult to grasp. The goal of this paper is to provide a clear explication of this theory. The main tenets of polyvagal theory will be presented including neuroception, the old and new view of the autonomic nervous system (ANS), normal and stress functions of the ANS, and trauma and attachment from a polyvagal point of view. Case material will illustrate somatic relational techniques from an ANS lens. The use of anatomical portals to contact or promote shifts will be provided.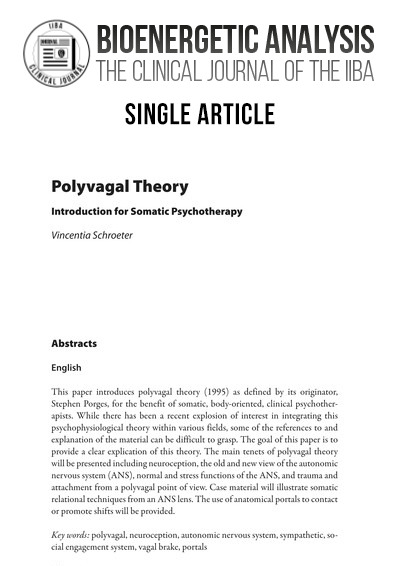 How to Cite
Schroeter, V. (2016). Polyvagal Theory: Introduction for Somatic Psychotherapy. Bioenergetic Analysis, 26(1), 9–40. https://doi.org/10.30820/0743-4804-2016-26-9
License
This work is licensed under a Creative Commons Attribution-NonCommercial-NoDerivatives 4.0 International License.
This work is licensed under the Creative Commons Attribution-NonCommercial-NoDerivatives 4.0 International License (CC BY-NC-ND 4.0). This license allows private use and unmodified distribution, but prohibits editing and commercial use (further information can be found at: https://creativecommons.org/licenses/by-nc-nd/4.0/). The terms of the Creative Commons licence only apply to the original material. The reuse of material from other sources (marked with a reference) such as charts, illustrations, photos and text extracts may require further permission for use from the respective copyrights holder.