Integrating Brain, Mind, and Body: Clinical and Therapeutic Implications of Neuroscience
An Introduction
Keywords:
bioenergetic analysis, body psychotherapy, neuroscience, psychosomatics, complex systems
Abstract
This paper presents a tentative assessment of what Bioenergetic Therapists may take out of the proliferating neuroscientific findings of the past two to three decades. A few examples are picked to demonstrate that different levels of observation – the sociobehavioral, the psychodynamic, the physiological and the cellular-biochemical – are equally relevant to an understanding of the complexity of human experiencing, information processing and functioning. Interventions on any of these levels can induce change on the same and/or any of the other levels: an increase of subjectively experienced stress, an activation of certain promotors and genes, synthesis and release of certain hormones, aggressive behaviour etc. All these processes are interconnected in highly complex systems. A short case vignette at the end recommends that clinicians acquire as much scientifically based explicit knowledge as possible, but that in moment-to-moment interactions with their patients they must also rely on their intuition and what has become «implicit" in their personality as psychosomatically oriented therapists.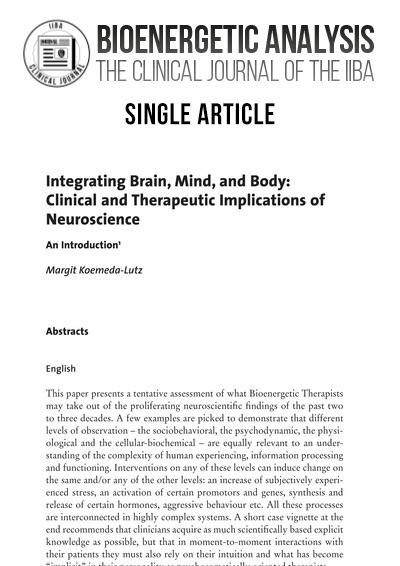 Downloads
How to Cite
Koemeda-Lutz, M. (2022). Integrating Brain, Mind, and Body: Clinical and Therapeutic Implications of Neuroscience: An Introduction. Bioenergetic Analysis, 22(1), 57–77. https://doi.org/10.30820/0743-4804-2012-22-57
License
This work is licensed under a Creative Commons Attribution-NonCommercial-NoDerivatives 4.0 International License.
This work is licensed under the Creative Commons Attribution-NonCommercial-NoDerivatives 4.0 International License (CC BY-NC-ND 4.0). This license allows private use and unmodified distribution, but prohibits editing and commercial use (further information can be found at: https://creativecommons.org/licenses/by-nc-nd/4.0/). The terms of the Creative Commons licence only apply to the original material. The reuse of material from other sources (marked with a reference) such as charts, illustrations, photos and text extracts may require further permission for use from the respective copyrights holder.