Lesbische, schwule, bisexuelle, trans*, intersexuelle und queere Menschen
Einige Herausforderungen für Theorie und Praxis bioenergetischer Therapeut*innen
Keywords:
biological sex, gender identity, sexual orientation, sex role, trans*
Abstract
Mit der Internationalen Konferenz des IIBA 2007 in Sevilla wurde öffentlich, dass sich die bioenergetische Einstellung gegenüber lesbischen, schwulen und bisexuellen Lebensweisen komplett gewandelt hatte hin zu Akzeptanz und Unterstützung. Gleichzeitig kamen die Veröffentlichungen zu diesem Thema in der bioenergetischen Welt zum Erliegen. Die entstandene Kluft zum mittlerweile gewachsenen Wissen der lsbtiq*2 affirmativen Forschung wird hiermit geschlossen durch Informationen über die Lebenssituation von LSBTIQ*, durch einen empathievollen Perspektivwechsel auf die lsbtiq*Welt und durch Vorschläge,wie ein bioenergetischer affirmativer Ansatz für die körperorientierte Psychotherapie mit lsbtiq* Klient*innen gestaltet werden könnte.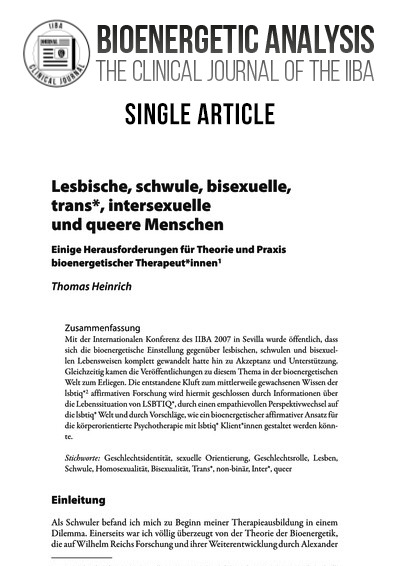 Downloads
How to Cite
Heinrich, T. (2019). Lesbische, schwule, bisexuelle, trans*, intersexuelle und queere Menschen: Einige Herausforderungen für Theorie und Praxis bioenergetischer Therapeut*innen. Bioenergetic Analysis, 29(1-DE), 61–84. https://doi.org/10.30820/0743-4804-2019-29-DE-61
License
Copyright (c) 2019 Thomas Heinrich
This work is licensed under a Creative Commons Attribution-NonCommercial-NoDerivatives 4.0 International License.
This work is licensed under the Creative Commons Attribution-NonCommercial-NoDerivatives 4.0 International License (CC BY-NC-ND 4.0). This license allows private use and unmodified distribution, but prohibits editing and commercial use (further information can be found at: https://creativecommons.org/licenses/by-nc-nd/4.0/). The terms of the Creative Commons licence only apply to the original material. The reuse of material from other sources (marked with a reference) such as charts, illustrations, photos and text extracts may require further permission for use from the respective copyrights holder.