Zurückhaltung versus Scham
Identitätsbildung durch Natur, persönliche Geschichte und Kultur
Keywords:
modesty, shame, body, myths
Abstract
Die Autorin widmet sich dem Thema Zurückhaltung, indem sie zunächst auf einen Artikel von Alexander Lowen (IIBA Newsletter, 1994) und anschließend auf einen Artikel des Philosophen und Jungschen Analytikers Umberto Galimberti eingeht. Lowen spricht von Zurückhaltung als »natürlichem Stolz« (»natural pride«), als dem Ausdruck für das Maß an Selbstwahrnehmung und Selbstwertgefühl einer Person. Dieser natürliche Stolz verrät die Fähigkeit des Individuums, seine Gefühle zu beherrschen, und liefert damit einen Hinweis auf seine Befähigung, auch eine starke sexuelle Ladung zu halten. Für Galimberti drückt derMensch, der Körper und Individualität besitzt, mit dem Begriff Zurückhaltung (»modesty«) die Dialektik zwischen dem Ego desMenschen und seiner animalischen Seite aus, den beiden Dimensionen, die als wesentliche Bestandteile die Person ausmachen und sie zugleich zerreißen. In jeder dieser Dimensionen wirken zwei Subjektivitäten: eine, die »Ich« sagt und mit der wir uns gewöhnlich identifizieren, und eine andere, die uns als »Vertreter unserer Spezies« versteht, deren Fortbestand sie sichern. Galimberti zufolge schränkt Zurückhaltung Sexualität nicht ein, sondern personalisiert sie. Anschließend reflektiert die Autorin soziale und historische Aspekte von Zurückhaltung im Italien der letzten 50 Jahre.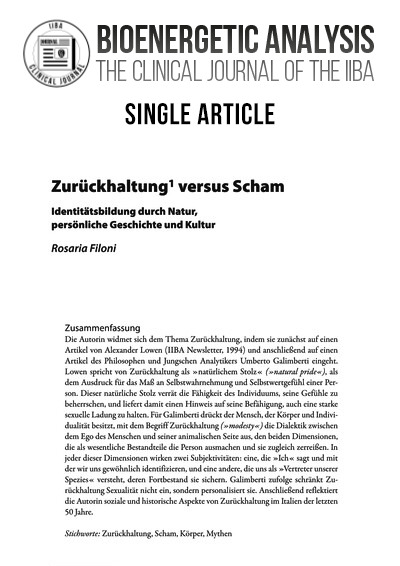 Downloads
How to Cite
Filoni, R. (2019). Zurückhaltung versus Scham: Identitätsbildung durch Natur, persönliche Geschichte und Kultur. Bioenergetic Analysis, 29(1-DE), 11–22. https://doi.org/10.30820/0743-4804-2019-29-DE-11
License
Copyright (c) 2019 Rosaria Filoni
This work is licensed under a Creative Commons Attribution-NonCommercial-NoDerivatives 4.0 International License.
This work is licensed under the Creative Commons Attribution-NonCommercial-NoDerivatives 4.0 International License (CC BY-NC-ND 4.0). This license allows private use and unmodified distribution, but prohibits editing and commercial use (further information can be found at: https://creativecommons.org/licenses/by-nc-nd/4.0/). The terms of the Creative Commons licence only apply to the original material. The reuse of material from other sources (marked with a reference) such as charts, illustrations, photos and text extracts may require further permission for use from the respective copyrights holder.