Traumatic Memories
A Neuroscience Perspective
Keywords:
Amygdala, Hippocampus, Prefrontal Cortex, Traumatic memories, Neuroscience, Therapeutic Relationship, Attunement
Abstract
In this paper, a detailed description of formation of memory based on neuroscience is given. Different types of memories are reviewed, and definitions of repressed memories and dissociated memories are introduced. Formation of dissociated memories, as well as mechanisms of repression of memory, based on recent fMRI studies and neuroscience research, are discussed. It is argued that traumatic memories frequently have dissociated aspects and repressed aspects. It is concluded and shown, based on recent research in neuroscience, that regardless of the nature of traumatic memories, a very important factor in treatment of trauma is the attuned therapist and the therapeutic relationship. Finally, two case studies are presented to highlight the arguments set forth in this paper.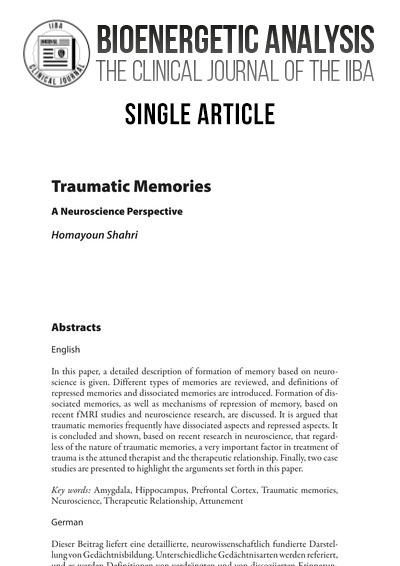 How to Cite
Shahri, H. (2017). Traumatic Memories: A Neuroscience Perspective. Bioenergetic Analysis, 27(1), 49–70. https://doi.org/10.30820/0743-4804-2017-27-49
License
This work is licensed under a Creative Commons Attribution-NonCommercial-NoDerivatives 4.0 International License.
This work is licensed under the Creative Commons Attribution-NonCommercial-NoDerivatives 4.0 International License (CC BY-NC-ND 4.0). This license allows private use and unmodified distribution, but prohibits editing and commercial use (further information can be found at: https://creativecommons.org/licenses/by-nc-nd/4.0/). The terms of the Creative Commons licence only apply to the original material. The reuse of material from other sources (marked with a reference) such as charts, illustrations, photos and text extracts may require further permission for use from the respective copyrights holder.