Autocuidado bioenergético para terapeutas
Entre a abertura e o estabelecimento de limites
Abstract
Neste trabalho, apresentarei descobertas neurobiológicas sobre os efeitos somáticos de fenômenos de ressonância, resultados empíricos dos respectivos riscos ocupacionais para os terapeutas, além de técnicas e conceitos bioenergéticos que dizem respeito ao autocuidado. No final dos anos 1990, eu ainda estava muito entusiasmada por ter descrito o fenômeno da ressonância somática e o seu potencial de trabalho com a contratransferência corporificada no processo terapêutico, quando em seguida a descoberta dos neurônios espelho validou esses fenômenos estimulantes no âmbito neurobiológico. Desde então, mergulhei no lado oposto da moeda da empatia. Nós, como terapeutas de ressonância, corremos o perigo de perder a nossa própria vibração de vida e até mesmo de adoecer. Os exercícios bioenergéticos, com um enfoque não clínico modificado especificamente, podem ser muito úteis para o autocuidado dos terapeutas. Espero que as ilustrações (desenhos) tragam um pouco de humor para a apresentação deste importante assunto que tem sido negligenciado até o presente momento.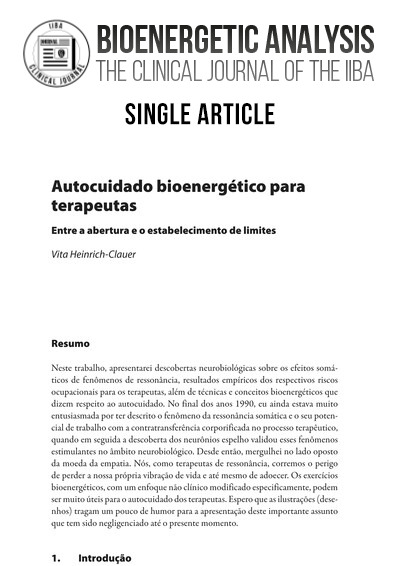 How to Cite
Heinrich-Clauer, V. (2015). Autocuidado bioenergético para terapeutas: Entre a abertura e o estabelecimento de limites. Bioenergetic Analysis, 25(1-pt), 41–73. https://doi.org/10.30820/0743-4804-2015-25-pt-41
License
This work is licensed under a Creative Commons Attribution-NonCommercial-NoDerivatives 4.0 International License.
This work is licensed under the Creative Commons Attribution-NonCommercial-NoDerivatives 4.0 International License (CC BY-NC-ND 4.0). This license allows private use and unmodified distribution, but prohibits editing and commercial use (further information can be found at: https://creativecommons.org/licenses/by-nc-nd/4.0/). The terms of the Creative Commons licence only apply to the original material. The reuse of material from other sources (marked with a reference) such as charts, illustrations, photos and text extracts may require further permission for use from the respective copyrights holder.